David R. Becker
The Most Important Watercolor Workshop You Will Ever Take
June 26-July 1, 2016 (Four Teaching Days)
Returning for the 5th year in 2016
www.davidrbecker.com REGISTER NOW
David will be teaching you watercolor from beginning to end; starting with teaching you how to take total control of the watercolor medium, leading to using that control of the medium to create well-composed watercolors. Subject matter will be changing daily with photo reference supplied in the morning and switching to students reference in the afternoon. Lessons will include: Loosen Up your Watercolor Technique, Adding Life/People into your paintings, Controlling your Wet-into-Wet Watercolor Washes, City Scenes simplified, and Reflections in H2O a Nautical Scene. David's teaching method goes from group teaching in the morning switching to one on one in the afternoon. This workshop is designed to benefit all levels of painters. Teaching students to conquer the medium of watercolor is David's goal and he takes great pride in making sure every student leaves with the ability to control.
David's work has been featured twice in International Artist Magazine, Artists Magazine and Watercolor Magic. David is a signature member of the Transparent Watercolor Society of America and has published two watercolor books with Northlight Books: How to Sketch with Watercolor and Watercolor Composition Made Easy.
Studio: Something for all levels. BEGINNERS WELCOME.
David is also teaching teaching on our Cruising the Aegean: A Classic Greek Islands Cruise from October 5-15, 2016. Celebrate Greece in all its glory on our popular Greek Islands cruisetour, which creates a harmonious balance between traditional cruising and private yachting. Explore storied cities, iconic archaeological sites, and idyllic islands at a relaxed pace while painting with David R. Becker. Learn more...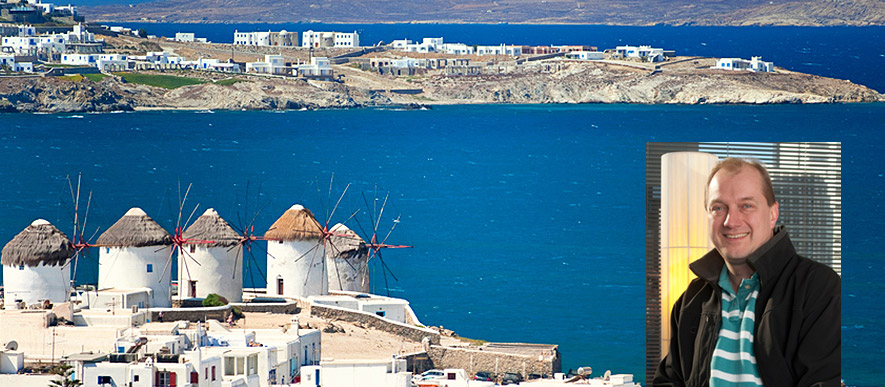 Workshop Fee plus tax per student:
CURRENTLY THE CLASS IS FULL AND WE ARE TAKING NAMES FOR THE WAIT LIST
If 12 or more students attend class (all teaching days): $365
If 11-10 students attend class (all teaching days): $380
If 9-8 students attend class (all teaching days): $395
——
Room & One Dinner Fee plus tax: $385
(There are 5 nights' accommodations included in the "Room & One Dinner Fee" listed above.)
——
NEW Cancellation Policy, Class Fees and Tiered Pricing Explained
A partial tuition scholarship is offered
Workshop Itinerary
Workshop Itinerary
Sunday, 6/26
Check-In to your unit at Dillman's (check-in time is 3:00)
5:00 Welcome Reception (included in package)
6:00 Dinner at Dillman's (included in Room and Meal Package. $25 additional for day students.)
Monday, Tuesday, Wednesday & Thursday 6/27-6/30
Breakfast On Own
9:00 a.m. - Noon Class in Session
Lunch On Own
Meals are on your own. All accommodations have cooking facilities. You may preorder box lunches and dinners for meals to be taken alone or with your group in: your studio, the lodge deck, cafe, or your accommodation. (Pre-ordering for lunches and dinners is required.)
1:00 p.m. - 4:00 p.m. Class in Session
Thursday, 6/30
NOON Farewell Champagne Toast (included in package)

Friday, 7/1
Depart - check-out time is 10:00
Optional Events - Sign Up Required / Subject to Change:
Monday 5:00 p.m. Dine-Around Dinner (Depart from Lodge Lobby)
Monday 7:00 p.m. S'more Roast (no charge)

Tuesday 7:30 a.m. Yoga
Tuesday 5:00 p.m. Dine-Around Dinner (Depart from Lodge Lobby)

Wednesday Noon & 4:00 p.m. Pontoon Ride on White Sand Lake (no charge)
Wednesday 5:00 p.m. Moondeer & Friends Gallery Tour (no charge)
Wednesday 6:00 p.m. Dine-Around Dinner

Thursday 5:00 p.m. Dine-Around Dinner (Depart from Lodge Lobby)
Dine-Around Dinners: Registration required at the front desk, meet at 5:00pm in the main lobby for carpooling.
Day students are welcome to attend the Welcome Reception and Farewell Reception (included in your package). You are also invited to join the class dinners (additional fee). PAL's (Participants at large) can vacation at Dillman'sfor $45 per night for accommodations. Costs for box lunches and dinners are additional.